Premises Liability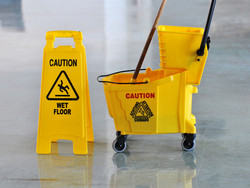 Business and property owners in California have a duty to make sure their premises are safe for customers or other visitors. This means that they must regularly inspect the premises and warn visitors about unsafe conditions or make repair conditions or hazards that have the potential to cause injury to patrons or guests. Unfortunately, owners do not always properly maintain their premises and, as a result, accidents and injuries occur on a regular basis. If you have suffered injury on someone else's property due to the owner's negligence, contact an experienced Newport Beach premises liability attorney at Jamal Injury Law P.C. to discuss a possible case.
Common Premises Liability Accidents
The most common type of premises liability claim involves slip and fall accidents. The National Safety Council (NSC) reports that an estimated 8.9 million people go to the emergency room every year in the United States for injuries they suffered in slips, trips, and falls. Many times, these accidents occur in commercial establishments or on another person's property.
Slips and falls are not the only type of accident that may lead to a premises liability claim. Other common accidents include the following:
Swimming pool or hot tub accidents
Amusement park accidents
Dog bites
Sexual assault or other crimes of violence due to inadequate security
Falls down stairs or from other heights
Exposure to toxic chemicals or substances
Falling objects
Other accidents related to building code violations
Due to the unique facts surrounding each claim, it is important to take immediately steps to preserve all the evidence surrounding your accident and contact a premises liability lawyer in Newport Beach as soon as possible. Working with an experienced lawyer is the best way to recover maximum damages.
Do I Have a Premises Liability Claim?
Not every accident victim has the legal right to recover simply because the incident took place at a business or on another person's property. Sometimes, people are simply clumsy and they fall on their own, but in many cases the business owner is responsible for the conditions that caused the accident. If your accident occurred due to negligence, an experienced personal injury lawyer like those at Jamal Injury Law P.C. can help identify the negligent act and show evidence of negligence in court.
In order to show negligence, you must demonstrate that a property owner breached their duty to keep the premises safe and that the breach actually caused your accident and injury. Such a showing can sometimes be complicated, so you want to ensure you have a Newport Beach premises liability attorney on your side who has experience handling these types of claims. Pursuant to California law, you have a limited amount of time to file a claim. Determining the specific time limit can be complex, as it varies depending on the status of the defendant. In order to ensure that your rights are protected, you should never delay in discussing your case with an attorney.
Contact a Local Premises Liability Attorney
If you have suffered injury in an accident at a business or on someone else's property, you should always consult with an experienced premises liability attorney who will fight for your legal rights and help you recover maximum compensation. To ensure that your claim is filed within the statute of limitations for these types of cases, it is important to do this as soon as possible after your accident.
At Jamal Injury Law P.C., our experienced team of premises liability lawyers serving Newport Beach can help you identify whether your accident occurred due to an act of negligence, give you a clear understanding of your legal rights, and discuss what your case may be worth. We always offer a completely free consultation with no obligation. Please do not hesitate to call us today at 714-907-1021 to schedule an appointment. In the alternative, you can complete our "Contact Form" and we will contact you.