Bicycle Accidents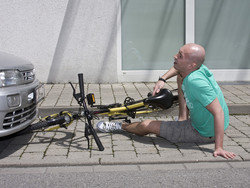 Riding a bicycle is a great way to have fun, stay in shape, save money, and reduce your carbon footprint. But riding a bicycle also puts you at higher risk for accidents, especially if you regularly ride your bicycle on the roads of Long Beach alongside millions of cars, trucks, and other motor vehicles. If you sustain a serious injury due to another party's negligence, it's a good idea to get in touch with an experienced Long Beach bicycle accident lawyer who can help you receive the compensation you need to fully recover. In the unfortunate case that this happens to you or a loved one, contact Jamal Injury Law P.C.
Long Beach Bicycle Laws
Under California law, bicycles are considered vehicles. This means riders assume all of the rights and responsibilities of any other type of vehicle. While bicyclists are expected to follow all traffic laws and signals, motorists are also required to respect bicyclists and share the road in a safe manner. Unfortunately, this is not always the case, and negligent motorists cause bicycle accidents every day. According to the National Highway Traffic Safety Administration (NHTSA), in 2011 alone, 48,000 bicyclists suffered injuries in accidents and 677 died. Many people are surprised by these statistics, but it is extremely important to know that accidents are common. This way you'll be prepared to take action if you are injured.
In the unfortunate case that you are in a bicycle accident, in order to recover your losses it's important to immediately file a personal injury claim with a bicycle accident lawyer serving Long Beach residents.
Some common causes of bicycle accidents for which you can seek legal assistance include:
Distracted driving
Failing to yield
Running red lights or other traffic signals
Not passing safely
Following bicyclists too closely
Cutting off a bicyclist
Making a left or right turn without checking for bicyclists
Opening a car door without checking for bicyclists
Road hazards
As you can see, motorists are not always the negligent party that causes a bicycle accident. Government entities that fail to fix potholes or cracks in the road should also be held responsible for their negligence.
Bicyclists who are involved in accidents often suffer serious injury due to their relative lack of protection if they collide with the ground or a motor vehicle. Common injuries include broken bones, brain injuries, spinal injuries, organ damage, internal bleeding, road rash, and more. Some of these injuries have the potential to cause serious and even permanent disabilities, which can change a bicyclist's life forever. At Jamal Injury Law P.C., we will work with you closely to ensure that you receive the necessary compensation for your injuries.
Contact a Long Beach Bicycle Accident Lawyer for a Free Consultation
If you have been injured in a bicycle accident, you are likely facing costly medical bills, pain, long recovery times, missed work, and much more. Under some circumstances, your life may be permanently changed due to your injuries. While this can be an incredibly stressful time, the best thing you can do to get a positive outcome is contact a lawyer as soon as possible.
No matter what your specific circumstances may be, you still deserve to be reimbursed by the responsible party for all of your injuries. At Jamal Injury Law P.C., we care about all of our clients and are committed to helping you obtain justice and financial recovery. We will always give you a straightforward assessment of your case and will respond to any questions in a timely manner. Do not hesitate to call us today at 714-907-1021 to schedule your free consultation with a bicycle accident lawyer in Long Beach.