Car Accidents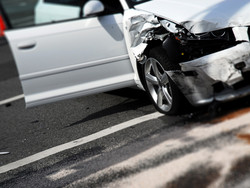 Every day millions of Californians jump in their cars to travel to the office, the grocery store, or a friend's house. When they do, they expect to arrive safely at their destination. They don't expect to get into a crash caused by the negligence of another driver.
Unfortunately, this nightmare scenario occurs thousands of times a year in the Golden State. If it happened to you, you may be entitled to compensation. Contact the experienced personal injury lawyers at Jamal Injury Law P.C. today for a full case evaluation.
California Car Accident Statistics
According to the California Highway Patrol, there were more than 1.7 million injury-causing auto collisions in the state of California between 2008 and 2017. During that same period, there were 2.5 million crashes that caused property damage and 29,861 accidents that resulted in death.
The California Department of Motor Vehicles says the main causes of car crashes in the Golden State include:
Violation of right-of-way rules
Violation of traffic lights
Speeding, and
Improper turning
Around 7.5 percent of car accidents in California involve a hit-and-run driver.
Were you recently involved in a car accident in Orange County or elsewhere in California? If so, please do not hesitate to reach out to the knowledgeable personal injury lawyers at Jamal Injury Law P.C. in Newport Beach. Our team has been helping crash victims recover compensation for years, and we are ready to fight for you!
Your Rights After a Car Crash in California
If you sustain an injury in a car accident that was caused by the negligence of another party, you have the right to pursue compensation for damages such as:
Medical expenses
Rehabilitation costs
Pain and suffering
Mental anguish
Lost wages, and
Loss of future earnings
If the at-fault driver behaved maliciously, you may also be able to recover punitive damages.
The amount of compensation you may be eligible to receive typically depends on the severity of your injuries. Courts in California generally award the highest payouts to individuals who sustain injuries that leave them with long-term disabilities and prevent them from returning to work.
If you would like to have an experienced personal injury attorney in Newport Beach assess your case, please contact Jamal Injury Law P.C. today. We offer free, no-obligation consultations.
Statute of Limitations in California Car Accident Cases
The statute of limitations for personal injury cases in the state of California is generally two years. This law means if you suffered an injury in a car accident in Newport Beach, you must typically take legal action against the at-fault driver before the second anniversary of the collision. In certain situations, the statute of limitations is less than a year, and therefore it is imperative to consult with an attorney as soon as possible.
It is sometimes possible to extend this deadline if:
You were under the age of 18 at the time of the accident
In general, however, if you miss your filing deadline, the court is likely to dismiss your case - and you will not receive the compensation you deserve.
Ready to begin the legal process? Contact a Newport Beach car accident lawyer at Jamal Injury Law P.C. today. We will help you file the necessary paperwork before your deadline passes.
Your Experienced Newport Beach Car Accident Lawyer
Car accidents can be a traumatizing experience, but they don't have to ruin your financial future. Contact Jamal Injury Law P.C. in Newport Beach at 714-907-1021 today to set up a free initial consultation with a skilled personal injury attorney. We'll help you fight for the compensation you need to cover your medical bills and other expenses.