Pedestrian Accidents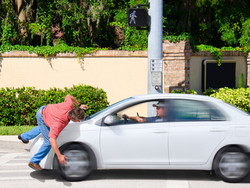 When Newport Beach residents leave the house to go for a walk, they expect to arrive safely at their destination. They certainly do not expect to get hit by a car and sustain a life-altering injury. Unfortunately, this nightmare scenario happens to thousands of Californians every year.
If you recently sustained an injury after being hit by a car, you may be entitled to compensation. Schedule a free initial consultation with a Newport Beach pedestrian accident attorney at Jamal Injury Law P.C. today to find out if you have a case.
California Pedestrian Accident Statistics
Data published by the California Office of Traffic Safety shows the Golden State is an incredibly dangerous place to be a pedestrian.
From 2009 to 2018, just under 7,500 pedestrians lost their lives on California roads. The state's pedestrian fatality rate is 25 percent higher than the national average.
In fact, no state in the union has more pedestrian deaths on its roadways than California.
The issue is not limited to fatalities, either. In 2018 alone, more than 14,000 pedestrians suffered injuries in accidents on California roads.
If you recently lost a loved one or suffered an injury in a pedestrian accident in California, please get in touch with the knowledgeable lawyers at Jamal Injury Law P.C. in Newport Beach as soon as possible. We may be able to help you claim compensation.
Common Causes of Pedestrian Accidents in California
The vast majority of the pedestrian accidents that happen in Orange County and throughout the state of California are caused by one of the following factors:
Distracted Driving: Drivers who are texting or eating do not always notice pedestrians crossing the road ahead of them.
Drunk Driving: It is, unfortunately, not uncommon for drunk motorists to drive their cars on sidewalks.
Speeding: Motorists who speed often struggle to stop in time to avoid hitting walkers.
Poor Lighting: A lack of street lights can make it difficult for drivers to see pedestrians.
Fatigued Driving: Tired drivers can have trouble reacting in time to avoid colliding with pedestrians at crosswalks.
If your pedestrian accident was caused by the negligent actions of another person or entity, you may be entitled to compensation. Call Jamal Injury Law P.C. in Newport Beach to arrange a free consultation with a knowledgeable personal injury attorney.
Compensation in California Pedestrian Accident Cases
When Newport Beach residents sustain injuries in pedestrian accidents, they can typically claim compensation for damages such as:
Medical expenses
Ongoing care costs
Lost income
Loss of future earning capacity
Mental anguish, and
Pain and suffering
When people die on the road, their family members can often file wrongful death suits and seek compensation for damages like:
Funeral expenses
Loss of financial support
Loss of inheritance, and
In some cases, injured parties and bereaved families may also pursue punitive damages. There is no limit on punitive damages in the state of California.
Would you like to have an experienced Newport Beach pedestrian accident lawyer analyze your case and provide you with an estimate of its worth? If so, please reach out to the team at Jamal Injury P.C. as soon as possible. We've been handling cases like yours for many years, and we'd be more than happy to provide you with the information you need.
Your Skilled Newport Beach Pedestrian Accident Lawyer
Being hit by a car can take a massive physical, emotional, and financial toll on a person. Do not try to tackle it alone. Call an experienced pedestrian accident lawyer at Jamal Injury Law P.C. in Newport Beach at 714-907-1021 today. We'll help you battle for compensation while you focus on your recovery.