Slip and Fall Accidents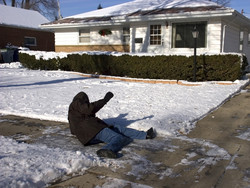 According to the National Safety Council, slips, trips, and falls accounted for about 33 percent of nonfatal preventable injuries and 21 percent of unintentional injury deaths in the United States in 2020.
These accidents are often caused by the negligent behavior of businesses, government entities, and other parties. When such a situation occurs, California law gives injured individuals the right to file a lawsuit and pursue compensation.
If you recently sustained an injury after a slip or fall in Newport Beach, and believe you might be entitled to compensation, please contact Jamal Injury Law P.C. today. Our skilled lawyers will be happy to review your case and provide you with the legal advice you need.
Common Causes of Slip and Fall Accidents in California
The most common causes of slip and fall accidents in the state of California include:
Ripped and uneven flooring
Unsafe and poorly maintained railings
Debris and other obstructions in walkways
Wet and slippery floors, and
Dark or poorly lit stairways
Property owners in California have a duty to keep their premises safe. If property owners do not maintain their floors, railings, and stairways, courts can hold them liable for injuries sustained by their visitors.
Did the negligence of a Newport Beach property owner cause you to suffer an injury? If so, don't hesitate to call Jamal Injury Law P.C. at 714-907-1021. Our team of knowledgeable slip and fall attorneys is ready to go to battle for you!
Common Injuries Sustained in California Slip and Fall Accidents
Slips and fall accidents can result in a wide range of painful and life-altering injuries, such as:
Broken bones
Internal organ damage
Lacerations
Limb amputations
Broken bones, and
Soft tissue injuries
Treating these injuries is rarely simple. Patients often require surgery as well as months or years of physical therapy. It is not uncommon for injured Californians to rack up thousands of dollars in medical bills.
Did you lose a limb or damage your spine as a result of someone else's negligence? If so, reach out to a skilled Newport Beach slip and fall accident attorney at Jamal Injury Law P.C. today. We might be able to help you claim compensation.
Compensation in Newport Beach Slip and Fall Cases
The amount of compensation Newport Beach residents receive after suffering injuries in slip and fall accidents varies significantly from one case to the next. People who suffer injuries that leave them permanently disabled or disfigured tend to receive the most substantial awards.
When calculating compensation, judges typically consider factors such as:
The cost of the plaintiff's medical treatment
The plaintiff's ongoing care costs
The amount of time the plaintiff missed from work
The affect the plaintiff's injury will have on their earning capacity
The mental anguish the plaintiff endured, and
The impact the plaintiff's injury will have on their overall quality of life
In some cases, the judge will also consider whether the defendant acted maliciously. If they did, the court may award punitive damages.
At Jamal Injury Law P.C., we've been helping Newport Beach residents battle for compensation after slip and fall accidents for years. During that time, we've achieved some impressive results. If you'd like to have us stand up for you, give us a call today.
Your Skilled Newport Beach Slip and Fall Accident Attorney
If you've suffered an injury due to the negligence of a Newport Beach property owner, please do not hesitate to contact Jamal Injury Law P.C. at 714-907-1021. Our team of skilled slip and fall accident attorneys is ready to help you fight for the compensation you deserve.