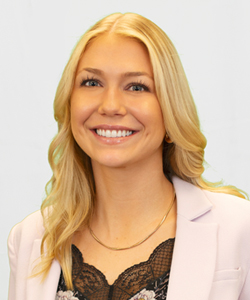 Olivia Miller
Case Manager
Olivia Miller is a Legal Administrator who provides reliable and consistent client support, acting as a liaison between clients and attorneys. From initial client intake to case settlement, Olivia monitors each case's progress while ensuring efficiency and professional correspondence between third parties. Olivia understands that each case and client requires its own unique approach. To better serve each of our clients' needs, Olivia dedicates herself to making every single one of our clients feel seen, heard, and supported through some of the most tumultuous times of their lives. She believes that kindness and respect in a professional setting are imperative distinguishers to any business, especially personal injury.
Olivia joined the team after earning her B.A. in Managerial Organizational Communications, as well as her B.S. in Philosophy from Point Loma Nazarene University in San Diego, California. During her time as a student, Olivia underwent several sport injury surgeries that influenced her compassion for the clients she now works with. Her experience with her own injuries adorns her with a resiliency to fight for those who have had their lives upended by an injury. Recovering from a life altering event requires encouragement, support, and selflessness; that is exactly what Olivia provides.
After her own recovery, Olivia was able to return to her passion for running and begin training as an avid long distance and marathon runner. The personal responsibility and discipline a sport such as running cultivates has actively translated into her role as Legal Administrator and aided in her drive to help others overcome their own adversities. When she is not in the office, Olivia also enjoys being immersed in the outdoors, whether that be in the mountains snowboarding, hiking, and camping, or at the beach surfing, biking, and playing volleyball.
Olivia is always happy and eager to help. Should you have any questions or business inquires, please feel free to contact her directly at olivia@jamalpersonalinjury.com